People ask me why I recommend a responsive website design when they already have a mobile-friendly site. My answer is your consumers should be able to check out what you offer on any device they're using. By any device, I mean smartphones, laptops, tablets, desktop computers, smartwatches, smart TVs, and all upcoming gadgets.
You have to admit, a lot of people got their mobile phones glued to their hands. You'd be doing your company a disservice if your website can't respond to a variety of devices. But what exactly is a responsive site, and how is it different from a mobile-friendly website?
What is a responsive website?
A website with a responsive design adapts easily to the size of any screen. Whether you are using a laptop, desktop, cellular phone, or tablet, you won't feel any glitches in the website's appearance on the screen.
If you have a mobile-friendly website, it could work great on your smartphone. But it can be troublesome to navigate when you view it on devices with higher resolution like a laptop, desktop, or even your smart TV.
Now that we've cleared that up, let me share how your business can benefit from having a responsive website design.
Top 5 reasons why you should have a responsive website design
1. Seamless User Experience
Have you ever experienced viewing a website on your mobile phone only to find the texts or images misaligned? It's a pain to navigate the page, so what do you do? You automatically close the site and check out other websites that provide similar information, right?
Your target consumers will not experience this if you have a responsive web design. No more distorted website appearance and they can scan through the pages a lot better. The users will likely come back for more if you make their internet scrolling journey easier. Trust me, you will generate more leads and revenue by making this change.
2. More traffic from mobile devices
In 10 seconds, can you name at least 3 people you know who have never used a smartphone? Surprise, surprise, I bet you can't!
In 2022, 61% of website traffic [1] is attributed to mobile devices. The remaining percentage goes into desktops, laptops, and tablets. Research also shows that an average US adult spends an average of 5 hours on their mobile phones a day.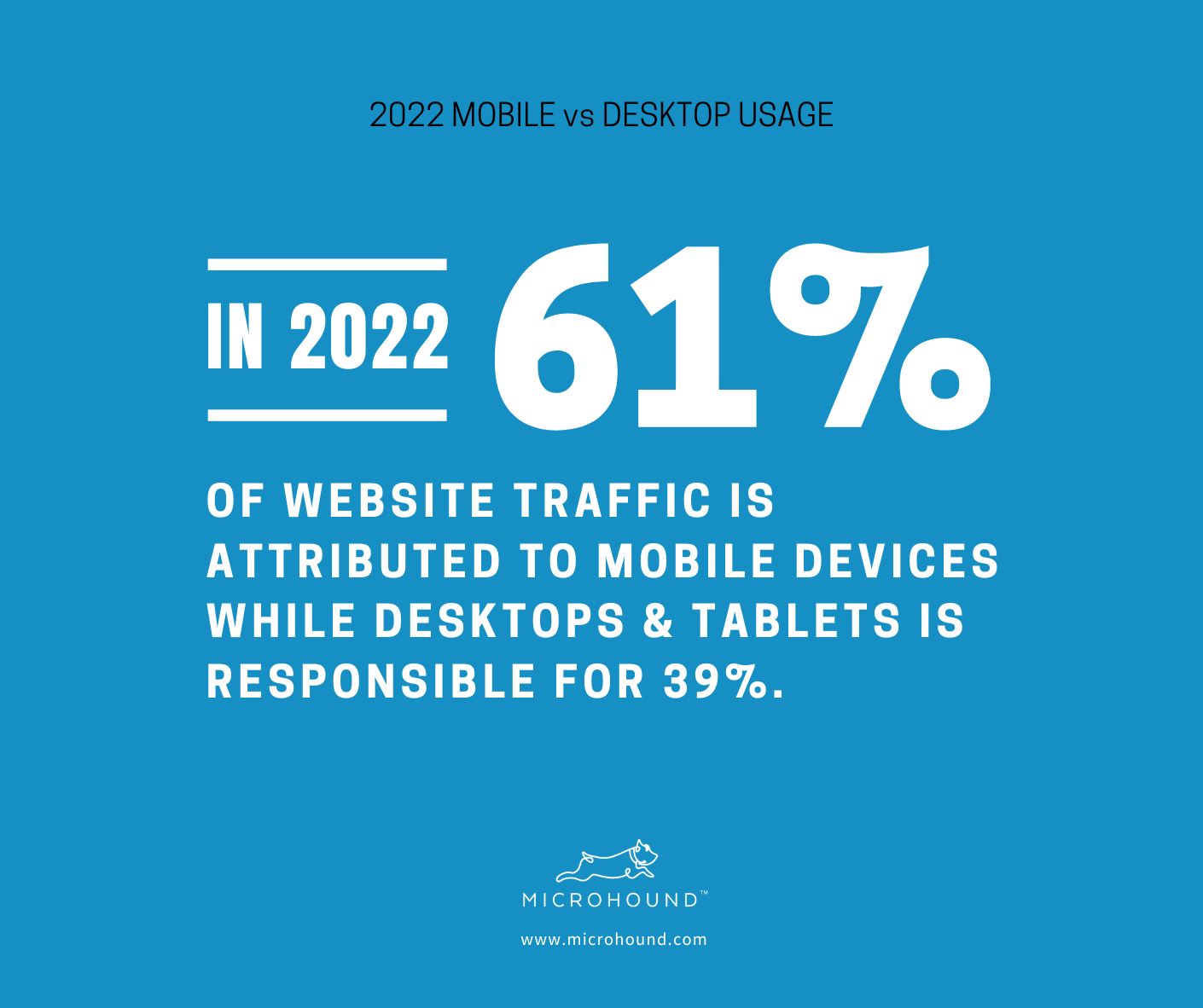 This increase is the driving force behind this movement of developing a responsive design. Sure, you can opt to have a mobile-friendly website. But don't you think it's better to maintain a unified website that can cater to all devices?
3. Adaptability to any screen size
The majority of people surf the internet using their mobile devices. Yet, technology is ever-evolving. Soon more users will also browse the web using their smartwatches and other web-enabled smart devices.
With a responsive web design, you are ahead of your competitors as your site can be seamlessly accessed from any screen. You don't have to worry and spend money to design a new website to fit the next trendy device.
4. Saves money on cost and maintenance
You might be on the fence about changing your old website design to a responsive one, and I get it. It can be costly in the beginning. Yet, the reduced cost of owning two separate websites for your business does add up.
When you have a unified responsive website, you only need to maintain one. It saves you more time. Now you can spend it on things that matter more, like scaling your business.
At Microhound, we dedicate our efforts to developing a responsive web design that's visually appealing and screams your brand and value.
5. Improves your SEO efforts
Google web core vitals [2] affect SERP rankings now. This includes page interactivity, speed, and visual stability. The search engine algorithm will show results that are responsive and optimized.
A responsive design is user-focused and attracts more audiences to your website. It increases their dwell time on your website.
Your SEO for your responsive website is also a lot simpler to maintain and implement. You only have to track and build one campaign, so it's more cost and time efficient.
In summary, you reach more audiences with a responsive web design because the content flows easily across all digital devices. You also save time and money on maintenance and monitoring as you only have to keep one version.
Trust Microhound to create a responsive and attractive web design for your business, and see more clients coming back for your services. Call us now at 866-537-6268 or visit our digital home microhound.com.